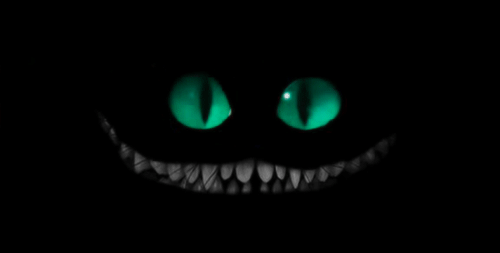 Sandia Resort & Casino / Albuquerque, NM
October 11, 12, & 13, 2022
About Us:
IIANM connects great ideas and great people. We represent more than 2,000 independent agents in the state of New Mexico. IIANM is the premier source of learning, resources, ideas, and advocacy to enhance the power and performance of our independent insurance agent community.
We believe that our association has the power to truly support our industry and we do this by nurturing a community of really smart, creative, and interesting people - our members!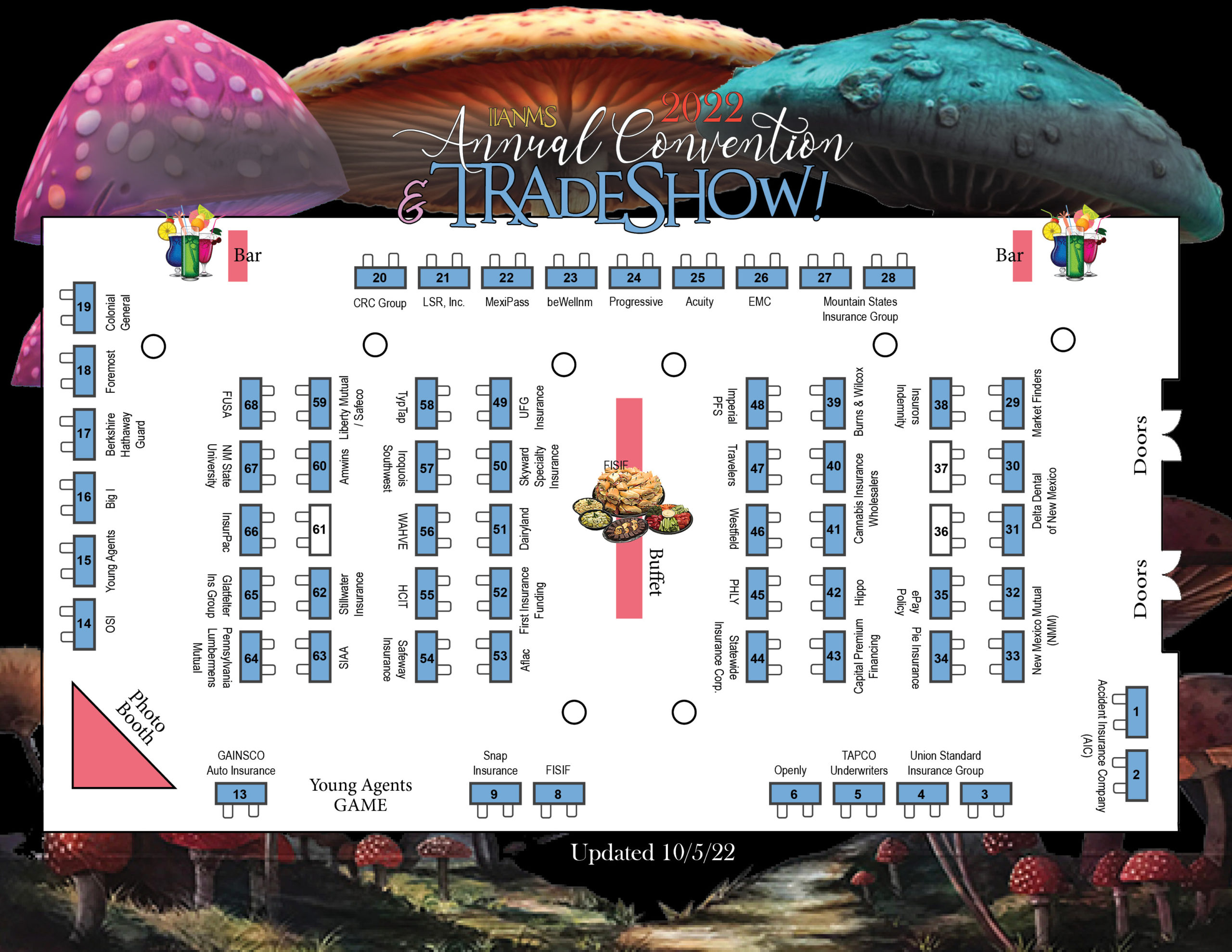 Got questions? We're here for you!
Rachel Sheffield
rachel@iianm.org
505-999-5803
cell: 505-350-9928
Your on-sight contact, logistics, event coordinator
Patty Padon
patty@iianm.org
505-999-5806
In charge of everything else and all complaints
(just kidding!)
Tentative Agenda (can be subject to change):

When: October 11, 12, & 13, 2022
Where: Sandia Resort & Casino, Albuquerque, NM
Please note: a more detailed agenda will be posted as we get closer to the event. Check back here for updates!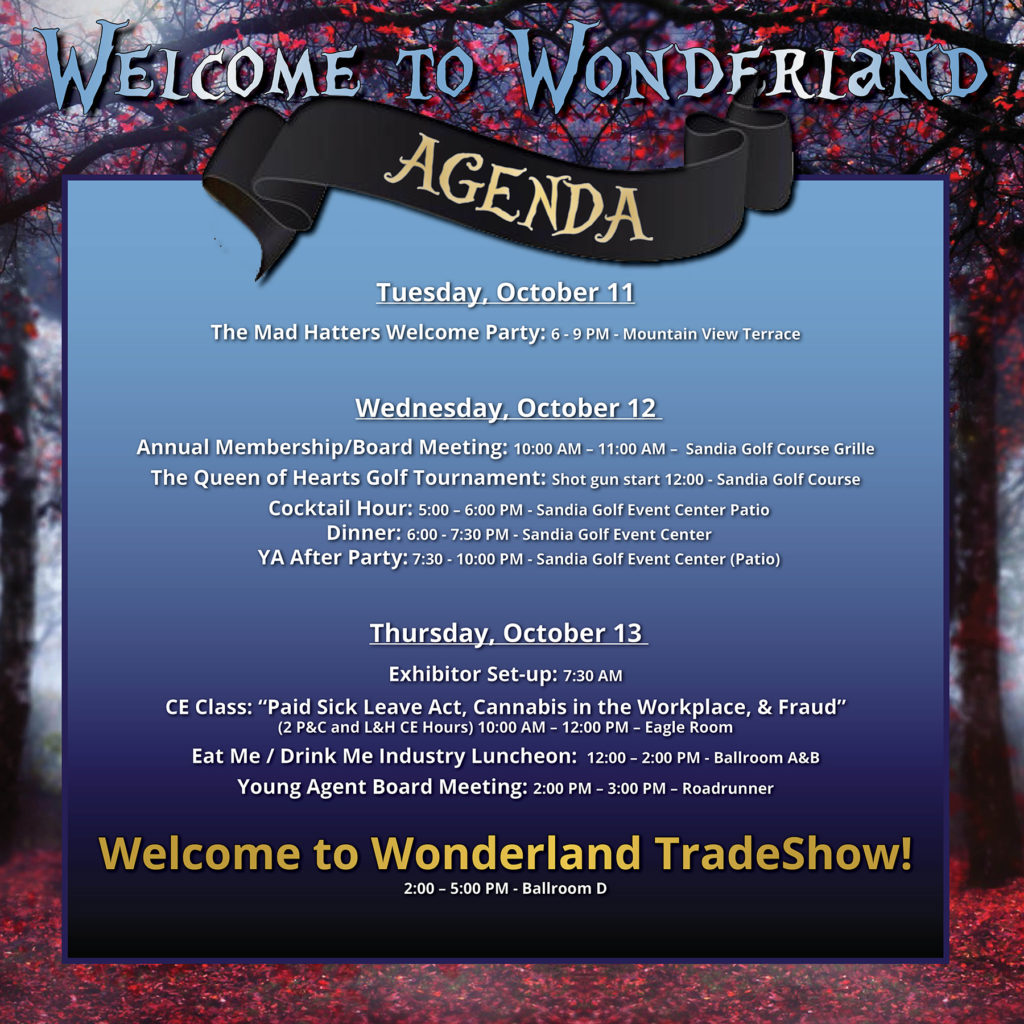 EXHIBITOR FAQs - THINGS YOU SHOULD KNOW:
Your booth comes with:
One six-foot black-draped table with two chairs
Booth Electricity: Comes with an extension cord, power strip, and tape down / $50
HOW TO SHIP TO SANDIA RESORT & CASINO
HOW TO SHIP TO SANDIA RESORT & CASINO
Please make sure all of your boxes are marked clearly  as indicated below
Schedule your freight and boxes to arrive 5 to 7 days prior to October 13.
As soon as the event is over, leave your box at your booth (returned labeled, boxed, & secured) and the shipping team will do a sweep of the room to pick up and deliver to the shipping/receiving area. YOU MUST CONTACT YOUR SHIPPING CARRIER TO SCHEDULE THE PICKUP FROM THE SANDIA SHIPPING/RECEIVING AREA.

Sandia Resort & Casino
30 Rainbow Road NE
Albuquerque, NM 87113
Attn:  Convention Services
IIANM Event
Date of Event
Name of Exhibitor
Number of Boxes
IF YOU ARE DRIVING IN WITH YOUR BOOTH:
Follow this Sandia Vendor Map to back loading dock area roll up doors.
Once inside the roll up doors, make your way to Ballroom D.  Find your booth table.
Please contact Rachel (505) 350-9928 if you need help.
SANDIA PROPERTY ONSITE CONTACT:
Sandra Pena-Lopez, Convention Services Manager | Hotel Sales, Sandia Resort & Casino, p: 505-798-3911 / spena@sandiaresort.com
Emails to Attendees
IIANM is pleased to share our attendee list with exhibitors. Most tradeshows don't allow this anymore, so let's keep this valuable perk by following a couple of guidelines:
We'll email all exhibitors the list of attendees about three weeks out from the event, then weekly as the event draws near. You will receive a final list of attendees after the Convention as well.
We ask that you do the following (based on the CAN-SPAM Act): Do not add attendees to your electronic mailing list without their permission. And if they request that you do not email them, please don't!
As an exhibitor of the TradeShow, personal emails to the attendees to invite them for coffee, or to visit your booth, etc., is absolutely fine. Plus, you'll get a much better response rate if your email is personal!
Please reference the following dates and name of the Convention: IIANM Annual Convention & TradeShow, October 13, 2022, Sandia Resort & Casino
If you are inviting any agents to dinner or late-night affair outside of the official Convention program, we ask that you please plan to do that on either Tuesday or Wednesday night 🙂
Promote the Event on Your Social Media Pages and Website
We thank you in advance for promoting the event. Please use the following link: www.iianm.org/convention and the specific name and dates. Also, use the hashtag #WelcometoWonderland and #IIANMTradeShow on any posts before the event plus on-site photos and updates!
Need an IIANM or Convention logo? Email rachel@iianm.org
SPONSORSHIP OPPORTUNITIES:
(All sponsorships can be purchased during the Exhibitor Registration)
PROGRAM SPONSOR - $500
Sponsor the Convention Program booklet with your logo or advertisment displayed on the back cover
TRADESHOW PHOTOBOOTH SPONSOR - $500
Sponsor the photobooth that comes fully equipped with social media integration, the highest quality instant photos with a luxury backdrop
ENTERTAINMENT SPONSOR - $500
Sponsor the band that will be entertaining during the Dinner and After Party (Wednesday evening 10/12)
KEYNOTE SPEAKER SPONSOR - $2500
Sponsor the Keynote Speaker that will present at the Industry Luncheon (Thursday 10/13)
RAFFLE ITEM SPONSOR - $500
Sponsor the Garmin Approach S60, Premium GPS Golf Watch with Touchscreen Display and Full Color CourseView Mapping, that we will raffle off during the Dinner & After Party
GOLF HOLE SPONSOR - $500
Set up your table at a one of the holes on the course

GOLF BOX LUNCH SPONSOR - $500

Your logo displayed on each box lunch

GOLF BEVERAGE CART SPONSOR - $1,000
Signage displayed with your logo on cart that will drive around course during the tournament

Ed Budanauro / New Mexico Mutual
Dave Ranes / Statewide Insurance Corp.
Ben Hopkins / Statewide Insurance Corp.
Charly McGuire / Skyward Insurance
Brian Thompson / Markel
Shelby Church / Markel
Octavio Torres / Dairyland
Nick Marsh / Dairyland
Jason Mills / Dairyland
Kyle Beckner / General Insurance Agency
Jenn Pete / Safeway Insurance
Ron Slaton / Safeway Insurance
Irma Quiroz / Safeway Insurance
Misty Davis / Hippo Insurance
Amanda Chancellor / Hippo Insurance
Rob Rodriguez / First Connect Insurance
Nathan Stephenson / SIAA
Adam Lugo / PHLY
Debra Conrad / PHLY
Danny Charlton / TAPCO Underwriters
Abigail Bliss / HCIT
Scott Love / Burns & Wilcox
Brittany Duquette / Burns & Wilcox
Eva Wardyla / Westfield Group
Jaimie Bisher / Westfield Group
Heather Angell / Westfield Group
Katie Ferreira / Westfield Group
Anthony Moya / Poms & Associates
Lametria Davis / Poms & Associates
Barbara Stierwalt / Berger Briggs Insurance & Risk Solutions
Ronald Roman / Union Standard
Wendy Taylor / Union Standard
Alesia Lingle / Union Standard
Monica Madrid / Roadrunner Insurance Services, LLC
Delilah Myers / Roadrunner Insurance Services, LLC
Kristy Stephens / HUB Southwest
Heather Fortner / Mountain West Insurance
Bill Fortner / Mountain West Insurance
Josh Mintz / Mountain West Insurance
Aubree Chavey / Salazar Insurance
Paul Salazar / Salazar Insurance
Kendra Zacharias / Rio Grande Insurance Services
Jake Boles / USA Insurance
Joe Menicucci / Downey & Company
Cara Cress / Cress Insurance
Sarah Stagner / Western States Insurance Group
Matt Hunton / L/P Insurance Services
Anna Whitmire / JS Ward & Son
Susan Vance / USI
Sam Smith / HUB Southwest
Joseph Cito / Downey & Company
Drew Morgan / Berkshire Hathaway Guard
Stacy Bro / The Insurance Store
Josiah Bro / The Insurance Store
Virginia Bro / The Insurance Store
Dylan Runge / ePay Policy
Chad Creamer / IPFS
Paula Brossman / IPFS
Kris Martin / Travelers
Steven Burns / TypTap
Rich Western / TypTap
Michele Staron / Stillwater Insurance
Terri Ketelsen / All Star Insurance
Todd Hassell / Capital Premium Financing
Seth Larsen / Capital Premium Financing
Steve Shaffer / Market Finders, Inc.
Carla Lujan / Market Finders, Inc.
Melissa Carmichael / Market Finders, Inc.
Kari Monjaras / Market Finders, Inc.
Nancy Shaffer / Market Finders, Inc.
Sarah Shaffer / Market Finders, Inc.
Melanie Brown / Market Finders, Inc.
Julia Torrez / Market Finders, Inc.
Jessica Vest / Market Finders, Inc.
Sarah Walker / Market Finders, Inc.
Audrey Douglas / Gainsco Auto Insurance
Nicole Jackson / Gainsco Auto Insurance
Misti Dickens / beWellnm
Erik Kaufman / Iroquois Southwest
Bob Stallings / Iroquois Southwest
Jakki Swicegood / Insurors Indemnity
Michael Vieregg / Insurors Indemnity
Jordan Butler / Insurors Indemnity
Bailey Slater / Liberty Mutual
Lyle Love / Woods Insurance Service
Tye Bell / Woods Insurance Service
Breanna Lucas / Woods Insurance Service
Tanya Kimball / Woods Insurance Service
Dominic Garcia / Rio Grande Insurance Services of Santa Fe, Inc.
Michael Maestas / Rio Grande Insurance Services of Santa Fe, Inc.
Chris Gonzales / Rio Grande Insurance Services of Santa Fe, Inc.
Bob Fee / Fee Insurance Group
Annie Fee / Fee Insurance Group
Larry Roe / FUSA Insurance
Kat Robinson / FUSA Insurance
Connie Sevier - Western States Insurance
Michelle Lange / HUB Southwest
Lori Heckler / HUB Southwest
Michael Stark / George Gandy Insurance
Triston Whitmire / George Gandy Insurance
Trevor Whitmire / George Gandy Insurance
George Gandy / George Gandy Insurance
Barbara Gandy / George Gandy Insurance
Christie Harris / George Gandy Insurance
Begona Wotring / George Gandy Insurance
Jesus Mejia / George Gandy Insurance
Amanda Sanford / George Gandy Insurance
Christine Montoya / George Gandy Insurance
Hector Baeza / Leavell Insurance
Anthony Baeza / Leavell Insurance
Maria Baeza / Leavell Insurance
Connie Kraguljac / Poms & Associates
Tim Foley / Poms & Associates
Juanita Steinke / HUB Southwest
Jordan McKenna / Poms & Associates
Levi Houston / Safeco Insurance
Casey Dove / Liberty Mutual
Bess Butler / Safeco Insurance
Rick Morgan / WAHVE
Karen Wagner / LP Insurance Services
Brian Cushard / LP Insurance Services
Sarah Riewe / Menicucci Insurance Agency
Mark Menicucci / Menicucci Insurance Agency
Charity Alcouffe / Menicucci Insurance Agency
Stephanie Hustead / Axcess Financial Group
Brian Sanchez / Brian Sanchez Insurance
Brandi Phillips / Brian Sanchez Insurance
Shani Baker / Brian Sanchez Insurance
Angie Ramirez / Brian Sanchez Insurance
Shayla Larranaga / Association Services Corporation
Andy Roberts / Western States Insurance Group
Tammy Lamm / Cannabis Insurance Wholesalers
Jennifer Dotter / Cannabis Insurance Wholesalers
Amber Brown / Cannabis Insurance Wholesalers
Summer Jenkins / Cannabis Insurance Wholesalers
Alysia Jackson / Cannabis Insurance Wholesalers
Ed Budanauro / New Mexico Mutual
Diana Padilla / New Mexico Mutual
Evelyn Symonds / New Mexico Mutual
Michael Landraf / New Mexico Mutual
Robbie Garcia / New Mexico Mutual
Rebecca Martinez / New Mexico Mutual
Kristin Gabaldon / New Mexico Mutual
Ernesto Montoya / New Mexico Mutual
Kelly Rawdon / New Mexico Mutual
Mary Morrison / New Mexico Mutual
Marie Eszenyi / New Mexico Mutual
Hailey Johnson / New Mexico Mutual
Kellie Mixon / New Mexico Mutual
Claudia Sanchez / New Mexico Mutual
Anna Kassay-Padilla / New Mexico Mutual
Kaylyn Hoffert / New Mexico Mutual
Nathan Olona / New Mexico Mutual
Amanda Yux / New Mexico Mutual
Fran Armijo / New Mexico Mutual
Cynthia Luna / New Mexico Mutual
Diane Duran / New Mexico Mutual
Chris Mitchell / Western States Insurance Group
Stefanie James / Central Insurance
Justin McCarley / Central Insurance
Emily Mascarenas / HUB Southwest
Dinia Sepulveda / MexiPass
Mike Baldwin / UFG Insurance
Jordan Sherry / UFG Insurance
Ryan Brennan / Berger Briggs
Kaelan Brennan / Berger Briggs
Damon Lucero / Berger Briggs
Greg Tyra / Capitol Insurance
Vivian Austin / HUB Southwest
Kit Turpen / Berger Briggs
David Olague-Love / USI
Tracey Sherman / HUB Southwest
Vanessa Villegas / Downey & Company
Tanisha Madrid / JS Ward & Son, Inc.
Sam Sanchez / JS Ward & Son, Inc.
Mark McCrary / Glatfelter Public Entities
Ben Wasson / LSR, Inc.
Jeremy Rodriguez / LSR, Inc.
Cindi Graat / Pennsylvania Lumbermens Mutual Insurance Company
Jim Atkins / Progressive Casualty Insurance
Tricia Grembowski / Progressive Casualty Insurance
Mike Mares / Progressive Casualty Insurance
Tye Butler / JS Ward & Son, Inc.
James Lyons / / JS Ward & Son, Inc.
Paul Chavez / JS Ward & Son, Inc.
Jason Barnes /
Jennifer Beck-Herrera / EMC Insurance Companies
Kathleen Temple / EMC Insurance Companies
Preston Williams / The Williams Insurance Brokerage
Jasmyn Zapien / The Williams Insurance Brokerage
Nayely Lujan / The Williams Insurance Brokerage
Chantel Edwards / Amwins
Mary Jo Dawson / Downey & Company
Carolyn Nasi / Downey & Company
Shiloh Bohman / Downey & Company
Maria Ankeny / Downey & Company
Sherryl Quint / Downey & Company
Brad Getz / Liberty Mutual
Bradley Martin / JB Martin Agency
Rebecca Rangel / A Auto Insurance Plus
Chris Rangel / A Auto Insurance Plus
Sarah Davis / Great American Insurance
Cesar Varela / Safeco Insurance
Jennifer Pleskovitch / Colonial General Insurance Agency
Travis Stuart / EMC Insurance
William Byers / True Coverage
Dave Tomasi / HUB Southwest
Julie Decker / Acuity
Haley Bosch / Foremost
Jeffrey McKinley / Foremost
Kathy Yeager / Berger Briggs Insurance
Mike Parisi / Atlas Insurance Services
Jonathan Delgado / Menicucci Insurance Agency
Dena Moore / Menicucci Insurance Agency
Rob Golden / Golden Insurance Agency
Cole Golden / Golden Insurance Agency
Christie Mann / CME Insurance Services
Cole Golden / Golden Insurance Agency P.C.
Rob Golden / Golden Insurance Agency P.C.
Steven Ford / Clients Choice
Erick Ortiz / Premier Group Insurance
Nicole Ortiz / Premier Group Insurance
Vince Galvez / Premier Group Insurance
Armando Reyes / Premier Group Insurance
Janelle Brookhouser / United Healthcare
William Byer / True Coverage
Edward Wanek / True Coverage
Ami Garcia / Garcia Agency
Carlos Garcia / Garcia Agency
MJ Abad / Southwest Federal Insurance
Donna Gallegos / Southwest Federal Insurance
Larry Gaylord / Southwest Federal Insurance
Benjamin Price / Selective Insurance
Shannon Leinen / Selective Insurance
Tracy Dragseth / Selective Insurance
Valerie Sparks / Selective Insurance
Mark Martinez / Selective Insurance
Thane Crozier / Selective Insurance
Russell Sarten / Selective Insurance
Todd Dalrymple / Selective Insurance
Diana Helms / Snap Insurance Services
Milo Bustamante / Snap Insurance Services
Kimi Donahue / Openly
Marie Toney / IIABA
Ruben Cortes / Gainsco Auto Insurance
Peter Clarkson / CRC Group
Hunter Hagan / CRC Group
Bill Arowood / Accident Insurance Company
Caryn DiPaola / Accident Insurance Company
Stephen Greenfield / Accident Insurance Company
Jim Lyssy / Insurance Services of New Mexico
Wayne Kessler / Madison Insurance Company
Eugene Moore / Madison Insurance Company