Government Affairs
Stay up to date on what is going on with the insurance industry on a state and federal level!
Big "I" National
We are affiliated with National Big "I" (Independent Insurance Agents and Brokers of America) and you are too!
Partners
Resources to help you improve your performance and increase your value.
Communications
Stay current with the latest news, industry announcements and exclusive promotions.
Member Emails
Scheduled member emails: Member News, Member Perks, and Member Alerts
Thank you to our Partners for their continued support of the independent agency system. Join today to begin receiving exclusive access to our events, committees, networking events, and many other member-focused initiatives.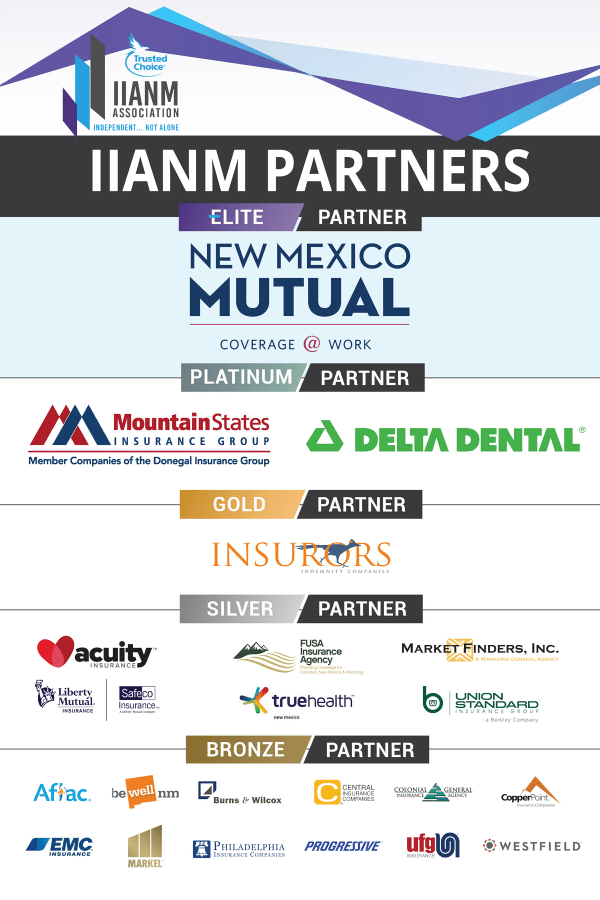 La Voz, Member Magazine -->
La Voz, our printed member magazine, currently reaches over 2,000 insurance professionals and other interested segments of the business world in New Mexico and across the nation.
Member Digital Communications
We send out three monthly emails, "Member News Monthly", "Member Resources of the Month", and "Member Happenings". Recieve essential local news, announcements, upcoming events, and educational opportunities.
As a member of IIANM, your agency receives a basic online directory listing on TrustedChoice.com, allowing you to receive referrals for real consumers looking for insurance.  With an Advantage Subscription, your agency will be more visible on TrustedChoice.com, resulting in more referrals.
Learn more about Advantage Subscription
The industry's leading technology experts provide blueprints on disaster planning, cybersecurity, customer experience, and other emerging trends to help your agency.  Look to ACT when you are looking for best practices or if you want to influence the industry's technology direction, join an ACT meeting or virtual work group.
Get started
Agency Nation resources help push traditional insurance marking into the past with insights, events and hands-on courses that get real results.  Agency Nation will teach you how grow your business using digital marketing.
Learn more about Agency Nation
As a member of IIANM and IIABA, you have access to free, shareable marketing content.  Trusted Choice has also created ad campaigns that can be customized for your agency.
Access Content to Share
Free for members!
ACORD provides the standard forms used by the insurance industry and are now available in a variety of formats.
IIANM/Big 'I' Members with less than $50 million in annual revenue will receive a free EUL.
Supported by your most important IIANM company partners