Isleta Resort & Casino / Albuquerque, NM
September 15th & 16th, 2021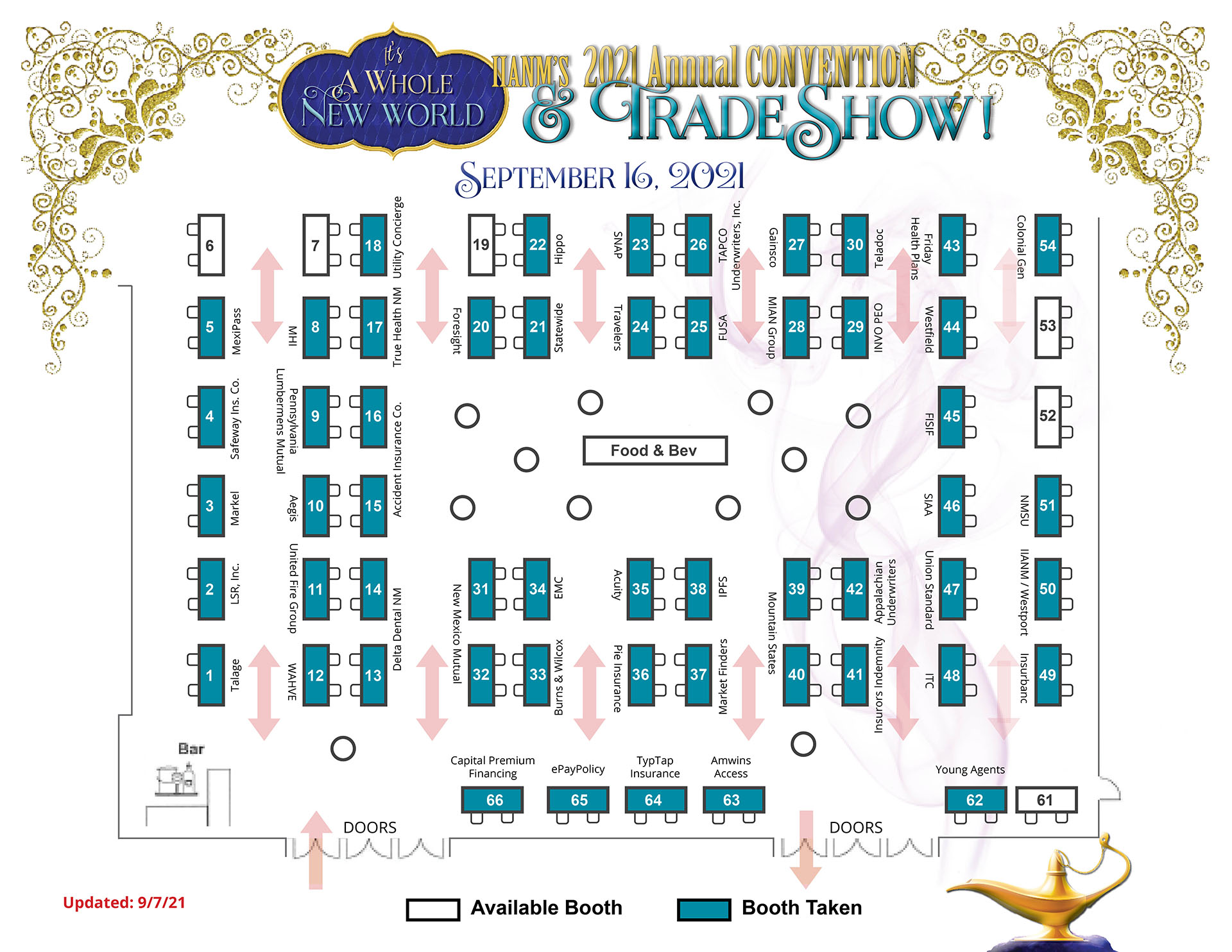 Got questions? We're here for you!
Rachel Sheffield
rachel@iianm.org
505-999-5803
cell: 505-350-9928
Your on-sight contact, logistics, event coordinator
Patty Padon
patty@iianm.org
505-999-5806
In charge of everything else and all complaints
(just kidding!)
Tentative Agenda (can be subject to change):

When: September 15 & 16, 2021
Where: Isleta Resort & Casino, Albuquerque, NM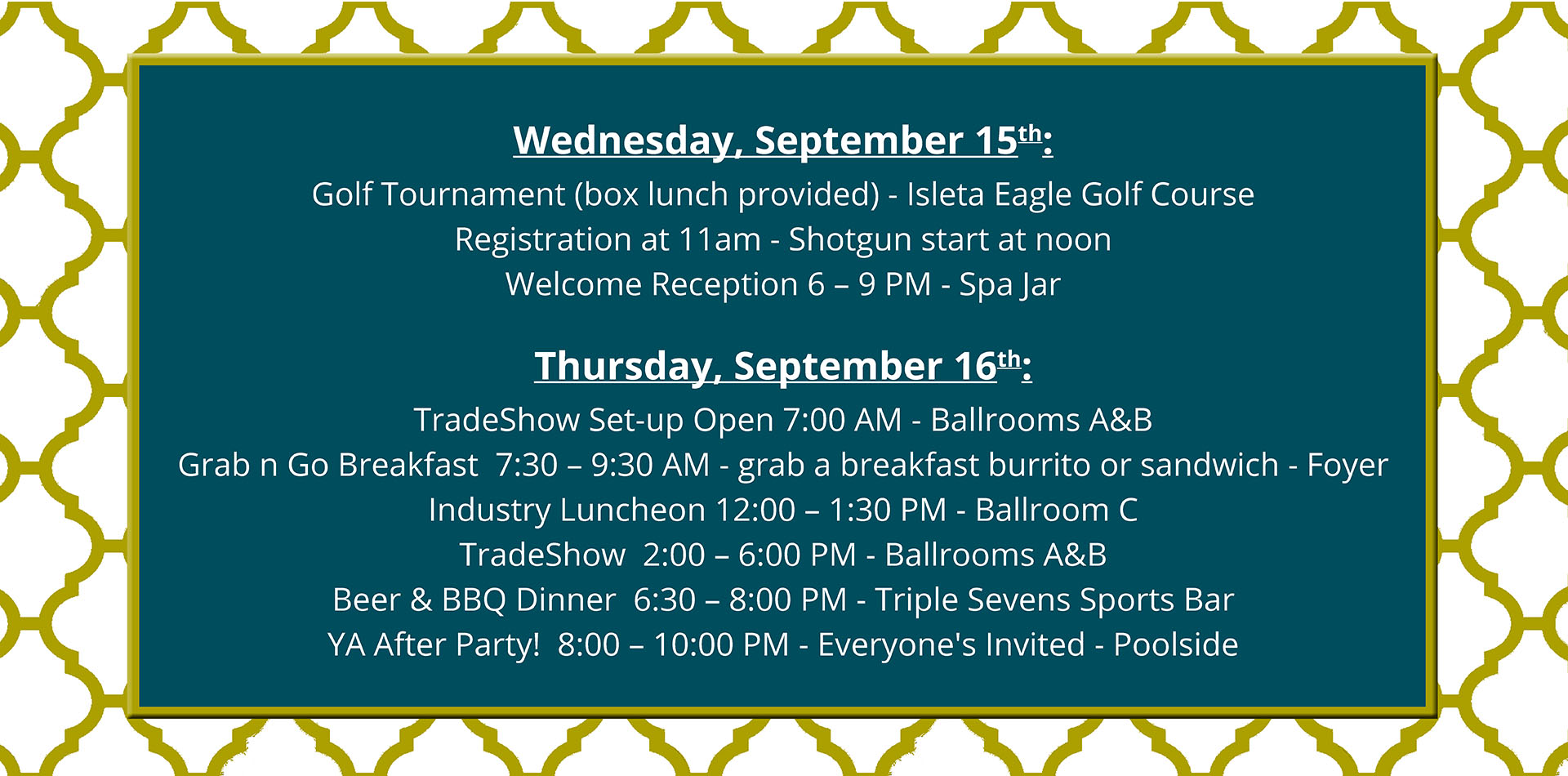 Exhibitor FAQs - Things you should know:
Your booth comes with:
One eight-foot black-draped table with two chairs
Booth Electricity: Comes with an extension cord, power strip, and tape down.
We can charge you $50 - or you can bring your own.
How to Ship to Isleta Resort & Casino
Please make sure all of your boxes are marked clearly with your company name and booth number as indicated below

Schedule your freight and boxes to arrive between September 10 - 15, 2021. The shipping team will store, then deliver your packages to your booth # on the TradeShow floor the morning of 9/16/21.

As soon as the event is over, leave your box at your booth (returned labeled, boxed, & secured) and the shipping team will do a sweep of the room to pick up and mail your packages.
Our property onsite contact is:
Victor Sanchez, Convention Services Manager | Hotel Sales, Isleta Resort & Casino, p: 505-244-8203
Shipments should be addressed to:
Isleta Resort & Casino
Attn: IIANM TradeShow, Booth # ____
[Your Company Name]
11000 Broadway SE
Albuquerque, NM 87105
505-724-3905
Emails to Attendees
IIANM is pleased to share our attendee list with exhibitors. Most tradeshows don't allow this anymore, so let's keep this valuable perk by following a couple of guidelines:
We'll email all exhibitors the list of attendees about three weeks out from the event, then weekly as the event draws near. You will receive a final list of attendees after the Convention as well.
We ask that you do the following (based on the CAN-SPAM Act): Do not add attendees to your electronic mailing list without their permission. And if they request that you do not email them, please don't!
As an exhibitor of the TradeShow, personal emails to the attendees to invite them for coffee, or to visit your booth, etc., is absolutely fine. Plus, you'll get a much better response rate if your email is personal!
Please reference the following dates and name of the Convention: IIANM Annual Convention & TradeShow, September 17, 2021, Isleta Resort & Casino
If you are inviting any agents to dinner or late-night affair outside of the official Convention program, we ask that you please plan to do that on either Tuesday or Wednesday night 🙂
Promote the Event on Your Social Media Pages and Website
We thank you in advance for promoting the event. Please use the following link: www.iianm.org/convention and the specific name and dates. Also, use the hashtag #AWholeNewWorld and #IIANMTradeShow on any posts before the event plus on-site photos and updates!
Need an IIANM or Convention logo? Email rachel@iianm.org
Isleta Airport Shuttle Service:
Call Valet/Guest Services at 505-724-3877
You will need to provide:
Guest name
Arrival/Departure dates and times
Airline
Contact phone number
Once you land, call the number above. The shuttle will depart right away to be on time to pick you up at the "Shuttle Pick Up" location.
The hotel also tracks flights arriving on any delay or expedited landing. If they do not receive a call from you, they will still be there to pick you up at your scheduled time. If they do not see you at the appointed time, they will give you a call.
See Who's Coming to Convention!
John Cobian / Twin City Insurance
Mela Martinez / Commercial West Insurance Agency
Regina Webster / AIS, LLC
Madison Battaglia / Markel Specialty
George Gandy / George Gandy Insurance
Triston Whitmire / George Gandy Insurance
Trevor Whitmire / George Gandy Insurance
Christie Harris / George Gandy Insurance
Barbara Gandy / George Gandy Insurance
Michael Stark / George Gandy Insurance
Alysia Jackson / Central Insurance Companies
Dave Ranes / Statewide
Ben Hopkins / Statewide
Julie Decker / Acuity
Travis Stewart / Acuity
Kathleen Temple / Travelers
Michelle Hale / Pie Insurance
N'nette Viezca / Pie Insurance
David Sutliff / Mountain States Insurance Group
Sergio Molinar / LSR
Randy Hobbs / Leavell Insurance
Karen Hobbs / Leavell Insurance
Marci Fortner / Auto Insurance Plus
Aubre Wells / Auto Insurance Plus
Bill Fortner / Mountain West Insurance & Financial Services, LLC
Josh Mintz / Mountain West Insurance & Financial Services, LLC
Heather Fortner / Mountain West Insurance & Financial Services, LLC
Jennifer PlesKovitch / Colonial General Insurance Agency
Larry Roe / FUSA
Eva Wardyla / Westfield Insurance Group
Diane Winters / Westfield Insurance Group
Scott Reinhardt / Westfield Insurance Group
Kerri Wawrin / Westfield Insurance Group
Betsy Carlson / Past-President & Special Guest
Brandy Zuniga / Amwins Access
Christa Nassivera / Amwins Access
Sydney Stenson / Pennsylvania Lumbermens Mutual Insurance Company
Yvonne Burgess / Philadelphia Insurance
Troy Baldwin / EMC Insurance
Jennifer Beck-Herrera / EMC Insurance
Shannon Bradley / EMC Insurance
Logan Hector / Insurors Indemnity
Rhett Dawson / Insurors Indemnity
Gail Locker / Insurors Indemnity
Jakki Swicegood / Insurors Indemnity
Matthew Nunn / ePayPolicy
Lydia Ashanin / True Health New Mexico
Chad Creamer / Imperial Premium Financing
Paula Broosman / Imperial Premium Financing
Sonia Tamayo / Safeway Insurance Company
Ron Slaton / Safeway Insurance Company
Kris Martin / Safeway Insurance Company
Dan Dessenberger / Aegis General Insurance Agency
Ronald Roman / Union Standard Insurance Group
Wendy Taylor / Union Standard Insurance Group
Marsha Brown / CopperPoint Insurance Companies
Cory Heidenberger / Food Industry Self Insurance Fund of NM
Amber Lucero / Food Industry Self Insurance Fund of NM
Kit Turpen / Berger Briggs Insurance & Risk Solutions, Inc.
Kristian Ornelas / Fiesta Insurance
Marisol Ruiz / Fiesta Insurance
Chris Ornelas / Fiesta Insurance
Joseph Plata / Fiesta Insurance
Casey Dove / Liberty Mutual Insurance
Susan Kittredge / Safeco Insurance
Seth Larson / Capital Premium Financing
Todd Hassell / Capital Premium Financing
Chris Gonzales / Rio Grande Insurance
Michael Maestas / Rio Grande Insurance
Robert Perea / Rio Grande Insurance
Dominic Romero / Rio Grande Insurance
David Tomasi / Western Assurance
Rick Lackey / Western Assurance
Sam Smith / Western Assurance
Chris Rierson / Western Assurance
Keith Mangini / Insurbanc
Heather Sheltra / Gainsco
Chris Mitchell / Western States Insurance Group
Sarah Stagner / Western States Insurance Group
Kyle Bradley / FUSA
Kat Robinson /  FUSA
Cara Cress / Cress Insurance Group
Kendra Zacharias / Rio Grande Insurance
Jake Boles / USA Insurance
Kyle Beckner / General Insurance Agency
Jason Barns / Foresight
Lauren Taylor / Foresight
Kathy Yeager / Berger Briggs Insurance & Risk Solutions, Inc.
Lauren Hemphill / Blue Chip Insurance Agency, Inc.
Joseph Menicucci / Downey & Company, Inc.
Matthew Hunton / Hunton Insurance Agency, Inc.
Anna Whitmire / J.S. Ward & Son, Inc.
Dan Dessenberger / Aegis General Insurance Agency
Melanie Ehlers / ITC
Beverly Strahler / ITC
Jared Wilcox / ITC
Heather Sheltra / Gainsco Auto Insurance
Bob Kysar / Kysar Millennium Leavitt Insurance Agency, Inc.
Joe Lujan / HUB Southwest
Steve Shaffer / Market Finders, Inc.
Nancy Shaffer / Special Guest
Bill Kinyon / Past-President & Special Guest
Gail Kinyon / Special Guest
Rick Morgan / Wahve
Sharyn Vross / TypTap Insurance
Alma Franzoy-Capron / Leavitt Group SW
Rhonda Gimler / Leavitt Group SW
Bob Jones / MIAN Group
Bill Arowood / AIC
Caryn DiPaola / INVOPEO
Mo Chavez / SaucedoChavez, P.C.
Erin Johnson / MHI General Agency
Mark Fay / MHI General Agency
Damon Lucero / Berger Briggs Insurance Risk Solutions
John Hansen / Berger Briggs Insurance Risk Solutions
Jim Lyssy / Insurance Services of New Mexico
Mike Baldwin / United Fire Group
Jason Knobler / Berkley Management Protection
Jennifer McRae / Berkley Management Protection
Dan Ciotti / Hippo
John Poucher / Hippo
Nathan Stephenson / SIIA
Vivian Lilley / Daniels Insurance Inc.
Melissa Bailey / Brown & Brown of NM, Inc.
Terri Ketelsen / All-Star Insurance
Robert Chavez / Monte Sol Insurance
Paul Salazar / Salazar Insurance
Aubree Chavey / Salazar Insurance
Michael David Freccia / FINCO, Inc.
Begona Wotring / George Gandy Insurance
Jody Barron / George Gandy Insurance
Christine Montoya / George Gandy Insurance
Jesus Mejia / George Gandy Insurance
Barbara Fort / Barbara Fort Insurance
Mark Maldonado / Cress Insurance
Carol Guerra / All-Star Insurance
Brandi Phillips / Brian Sanchez Insurance
Brian Sanchez / Brian Sanchez Insurance
Scott Love / Burns & Wilcox
Renee Voigt / Burns & Wilcox
James Alwood / RLI
Jonny Parkman / Talage
Cody Childress / Tapco Insurance
Anita Raiford / Teladoc
Kelly Dockins / Teladoc
Chris Krahling / Special Guest
John Franchini / Special Guest
Julie Franchini / Special Guest